21. November 2007, 23:59, by Silvan Mühlemann
After a day of speaking about about memcached, squid and sharding at the tilllate offices, Peter was still fresh enough to hold a talk about Advanced MySQL Query Optimization for the Webtuesday (notably on a Wednesday).
Even though we announced the talk just three days ago I've never seen the room at namics packed so much. Even the Ruby guys around Tristan cancelled their Höck and joined us! No surprise: Peter is well known through his Mysql Performance Blog.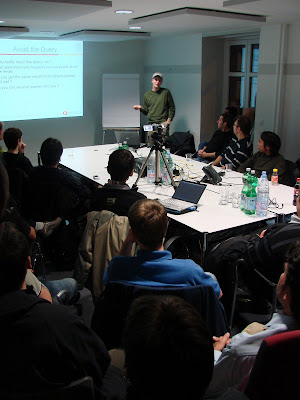 I was really impressed by the depth of knowledge this guy has. He knows every detail about different storage engines, the query optimizer, how MySQL stores the indexes down to the one line of C code. He was able to answer every question confidently. Urbans questions about MySQL Full text index (Peter's answer: "Don't use the MySQL full text index for anything more complex than your home DVD collection."). Off-topic questions from Maarten on how to solve the shortest path problem between to members of a social networking site. Impressive.
As soon as I have video an slides and video I'll post it here.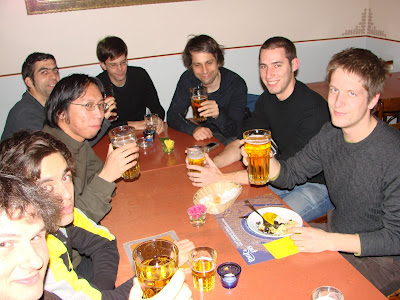 Drinks afterwards at the Tant Pis (Patrick, Jia, Lucas, Silvan, Chregu, Stefan, Maarten)